Press Releases
Press releases from and about the Pioneer Library System.
Pioneer Library System - Press Releases
Last Updated on Friday, 12 December 2008 14:48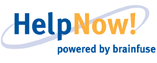 It's late in the evening your child brings you the following homework questions for help, x + 23 = 2x + 45 ... Can you still solve for x?
You are studying for your World History test – but you need to brush up on a few things beyond Wikipedia and your textbook. Do you know a place to go online to get reliable help studying?
Between 2:00 pm and 10:00 pm, every day, you can login to Brainfuse - HelpNow and access On-Demand Homework Help and State Aligned Skills Building tools with real online tutors. Brainfuse also provides a 24-Hour writing lab where students can submit papers for constructive feedback.
Add a comment
Pioneer Library System - Press Releases
Last Updated on Saturday, 01 November 2008 07:50
The Pioneer Library System has collected historical photos which they are inviting the public to help identify and explain. The photos are from each of the branch library hometown in Cleveland, McClain and Pottawatomie counties. The photos are stored online at the popular Flickr website, designed for such photo sharing projects.
During 2006 and 2007 the Pioneer Library System organized "Gathering Days" in each community during which they collected photos and documentation for historical and commemorative centennial projects. Murals for each town were created and installed in each library using part of each collection. Some of the photos have also been featured in print and video publications of the library system.
The goal now is to make the collection itself accessible to each community, online. By asking the public to view their town's photos and to contribute to the descriptions, the organizers hope to make the collection more searchable and thus more valuable to viewers.  For example, someone may have given a high school ball team's winning photo to the collection; but, they were unable to name members….now, someone else from the town, may be able to supply the missing names.
Add a comment
Pioneer Library System - Press Releases
Last Updated on Tuesday, 02 August 2011 09:55
Ever wish you had more time to read a "Sizzler" book? Now you can!
Instead of only 7 days, Sizzlers are now able to be checked out for 21 days!
And the overdue fines for Sizzlers are only 10 cents a day.
There are still no renewals or holds allowed for Sizzlers.
Sizzlers are new and popular books that are found in the shelves next to the circulation desk and marked with a Sizzler tag on the spine.
Add a comment
Pioneer Library System - Press Releases
Last Updated on Monday, 19 May 2008 11:35
New Prices for Color Prints and Photocopies!
Color Computer Prints are now 30¢ a page
Color Photocopies are now 30¢ a page

And don't forget, with the change you save you can save up to buy a USB Drive!
Add a comment
Pioneer Library System - Press Releases
Last Updated on Monday, 27 April 2009 10:26
It's happened to the best of us. We pull out our trusty old 3.5" disc and pop it in the A: drive of the computer and... ERROR!
At that moment the heart stops - oh my goodness 3 months worth of work down the tubes.
Why does it happen? Well, truth be told 3.5" discs are very fragile - even in the best storage conditions they lend themselves to being easily damaged and that means the information we store on them is vulnerable.
Well Pioneer Library System, and our hometown libraries, are here to help. Starting April 16, 2008 you'll be able to purchase PLS USB Drives. The 1GB USB Drives are $10.00 and fit neatly on a key chain, in a pocket or a purse. You'll be able to purchase them with cash or check at the Circulation Desk.
Why should you consider purchasing a USB Drive from PLS? Well USB Drives are more reliable than floppies and our 1GB USB Drive will store, approximately, the same amount of information as 700 old 3.5" discs. Plus as you can see from the photo they are are a lovely shade of purple and have the PLS Logo. What better way to remember who is here to connect you to the joy of reading and information for lifelong learning?
Add a comment
More Articles...
Page 8 of 9
«
Start
Prev
1
2
3
4
5
6
7
8
9
Next
End
»